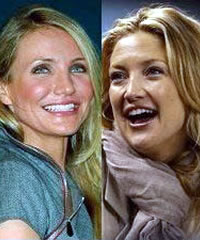 Alex Rodriguez commonly known as A-Rod has been sighted with Cameron Diaz on a number of occasions but the rumor wheel started spinning faster when Diaz was sighted leaving A-Rod's apartment.
Cameron Diaz and Alex first openly flirted at the Creative Artists Agency Super bowl party in Miami. Now this news has Kate Hudson all worked up.She and A-rod broke up recently and seems like she assumed that he wanted his space and they would be back together once again.
Now with the addition of Diaz into the picture this seems like a long shot.