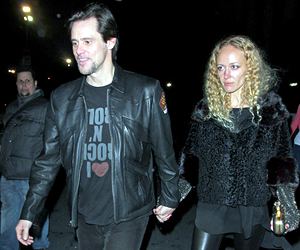 Calling a sugar daddy seems so obvious for the Mr. Popper's Penguins actor Jim Carrey who is nowadays spending money on his new young girlfriend.
Jim Carrey has been dating a young girl named Anastasia Vitkina, a Russian beauty student in New York and is enjoying his life to the fullest with her. Anastasia Vitkina who is a stylish girl, is spotted with Jim Carrey many times but the things are now getting too cozy in between them both.
Like any other old rich man, Jim Carrey finds it hard to travel to Anastasia and see her thus he calls the young lady wherever he is and also pays for her to fly to him.
Jim Carrey is now a full-fledged sugar daddy for Anastasia Vitkina and enjoying time with young girl.