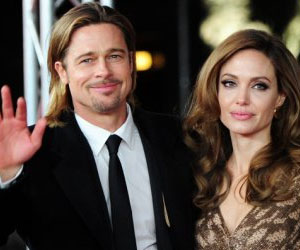 Talented actress turning director Angelina Jolie was joined by soul mate Brad Pitt at the Sarajevo Premiere Night of her Bosnia war based film "In the Land of Blood and Honey."
Bosnian actors including Vanessa Glodjo, Zana Marjanovic, Croatian actor Rade Serbedzija, and Goran Kostic also joined the "Salt" beauty Angelina Jolie at the Zetra Olympic center venue. At the Sarajevo Premiere Night, Angelina Jolie narrated before approximately 5,000  people that her film on Bosnian war is thought to be a 'wake-up call' for the world to avoid atrocities.
Angelina Jolie said: "I am satisfied with what we made, I feel very strongly about it and I believe that its core issue — which is the need for intervention and need for the world to care about atrocities when they are happening — is very, very timely and especially with things that are happening in Syria today."
"I think it is very important that this film is out at this time and … if this film points the finger at anybody it is the international community", she added.