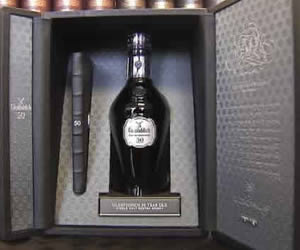 A 50-year-old bottle of Glenfiddich Scotch whisky sells for $27,000
Glenfiddich has always been known for their expensive Scotch, such as a $94,000 bottle, the Janet Sheed Roberts bottle and the William Grant and Sons bottle.Salem local Lyle Shellenberg is the latest to join a long list of Glenfiddich Connoisseurs, with his purchase of a $27,000 bottle of 50-year-old single malt scotch. Shellenberg and his wife made a special trip to Hillsdale Liquor store near Capitol Highway to buy this extravagant bottle. There are only 50 such bottles released worldwide every year by Glenfiddich. When asked about the purchase Shellenberg said that he has always had a fondness for Glenfiddich scotch because his grandfather was originally from Scotland and loved to drink Glenfiddich. He said "I could have spent money on a sports car or something else, I just happened to choose that I like Glenfiddich Scotch and this was interesting to me, it was different, it's not something somebody down the street or someone else in Oregon has." A $27,000 bottle of Scotch will definitely set him apart from other residents of Oregon.
The bottle itself has been handcrafted and arrived at the store in a leather case, each bottle is sealed with a knot by a world champion fly fisherman. When asked about what Shellenberg can expect of the whiskey, Mitch Bechard, Glenfiddich's ambassador in the US said it would be velvety smooth with just the slightest hint of tropical fruits. While Shellenberg plans to show the bottle off to family and friends for a while, he eventually plans to break the seal and drink it with his family.