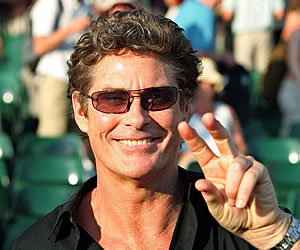 The famous and hot favorite Baywatch star David Hasselhoff has turned 60 years old today. We wish him a very great happy birthday and good health.
David Michael Hasselhoff was born on July 17, 1952 in Baltimore, Maryland, U.S. He is a known Hollywood actor, singer, producer and businessman who got popularity for playing Michael Knight in 1980s American series Knight Rider and as Mitch Buchannon in the series Baywatch.
David Hasselhoff has also produced many seasons of Baywatch ending up with Baywatch Hawaii. He has also enjoyed a short lived singer status getting noticed for his Berlin Wall performance at New Year's Eve in 1989. He had also been part of some talent shows such as he was the judge at America's Got Talent from 2006 to 2009, later on for the Britain's Got Talent.
Some of David Hasselhoff films are Dodgeball: A True Underdog Story, The Big Tease, Baywatch the Movie: Forbidden Paradise, Legacy, Welcome to Hollywood, Anaconda 3: Offspring, Command and Conquer Red Alert 3, Piranha 3DD and many others.