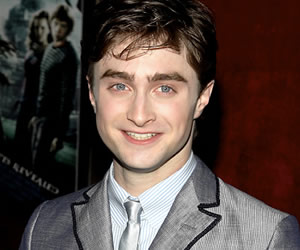 Happy birthday Daniel Radcliffe. We wish you a very blessed day. May you get more success and popularity.
The Harry Potter film series famed child star Daniel Radcliffe is celebrating his 23rd birthday today.  He was born on 23 July 1989 in London, England and got auditioned for his world famous title character David Copperfield at the age of 11 years only.
Daniel Radcliffe made his acting debut with film The Tailor of Panama and then appeared in first Harry Potter film ending it to the final eighth film. In 2007, he got starred in December Boys and in 2012, in the hit horror film The Woman in Black.
Daniel Radcliffe has also performed on television and theater and has garnered bundle of nominations with winning many awards such as in 2001 he won Hollywood Women's Press Club Male Youth Discovery of the Year award for film Harry Potter and the Philosopher's Stone, in 2007 National Movie Awards as Best Male Performance, Broadway.com Audience Award, Drama Desk Award, Teen Choice Awards, MTV Movie Awards and many others.
Daniel Radcliffe has also been awarded the Trevor Project's "Hero Award" in 2011.
Have a very happy birthday- Daniel Radcliffe.