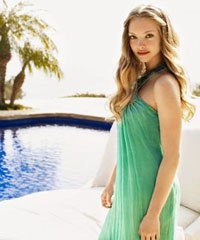 Amanda Michelle Seyfried born December 3, 1985 is an American actress, singer-songwriter and former child model. She began her career as a child model when she was 11 and when she was 15 she began her career as an actress; starting off with uncredited roles and going on to have recurring roles on As the World Turns and All My Children, which expanded into her successful television and film career.
In 2004, Seyfried made her film debut in Mean Girls playing Karen Smith, the ditsiest of the so called 'Plastics'. She then went on to other films including Nine Lives (2005) and Alpha Dog (2006). In 2006, she landed a lead role on HBO's popular television series Big Love. After that, Seyfried appeared as Sophie Sheridan in the 2008 musical feature film Mamma Mia!. Other recent notable appearances include lead roles in Jennifer's Body, Chloe, Dear John, Veronica Mars and Letters to Juliet.
Seyfried's profile gained prominence due to her role in the highly acclaimed HBO drama television series, Big Love. The series centers on a fictional fundamentalist Mormon family, in which Seyfried plays Sarah Henrickson, Bill and Barb's first daughter who struggles with her family's polygamous faith. Big Love premiered in the United States on March 12, 2006. HBO confirmed that the show was renewed for a fourth season – which was filmed in August 2009, and premiered on January 10, 2010. Seyfried appeared in all 35 episodes of the show's three seasons. In December 2009, HBO confirmed that Seyfried would return for the show's fourth season, but that it would be her last, as Seyfried wished to focus on her film career and upcoming projects.
Later in 2010, Seyfried starred in the romantic-comedy box office hit film Letters to Juliet, another film adaptation. Based on the book by Lise and Ceil Friedman, the film centered on a young woman (Seyfried) who discovers a letter written to Juliet Capulet. In 2010, Seyfried received an award and was named "Showest Breakthrough Female Star of The Year".